Free webinars are great, but sometimes you need a little more insight and training. That's where Slingshot25 Courses come in.

Do you have a good grasp on the basics of change but want to learn more? 
Looking for simple tools to guide you and your stakeholders through the change process efficiently and effectively?
Ready to become a change practitioner for your organization without spending DAYS in a classroom?
Want to learn from someone who has actually managed numerous complex changes in corporations?
Led by Slingshot25's change expert and coach, Courtney Smock, The Navigating Change Masterclass will help you master the change process and transform your organization.

Enroll in The Navigating Change Masterclass today!
Our Unique Class Structure
Four two-hour virtual in-depth sessions on change management.
Three one-hour learning labs using your real change projects.
One free 1:1 coaching session with change expert Courtney Smock ($800 value).
The Complete Change Guide – Easy-to-use tool to guide you and your stakeholders through the change process.
Classes:
Tuesday, January 9       10am – Noon CST
Friday, January 12         10am – Noon CST
Friday, January 26         10am – Noon CST
Friday, February 9          10am – Noon CST
Labs:
Friday, January 19           10 – 11am CST
Friday, February 2            10 – 11am CST
Friday, February 16          10 – 11am CST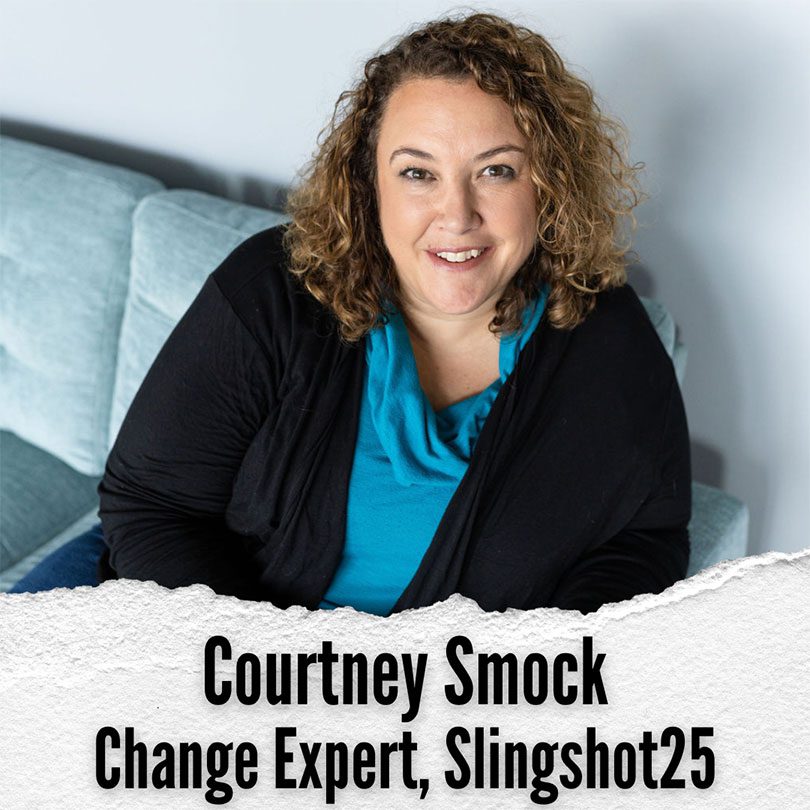 Courtney Smock is a partner at Slingshot25. With over 20 years of change and org design experience, she brings energy and insights that will immediately help you be a more effective and influential leader.

"People aren't math problems to be solved. This is why we built The Navigating Change Masterclass. This course teaches people the actual invisible skills of change. We teach you about decision making and how to influence decision makers. We will teach you how to assess the impact of a change and care for those who will need it. Lastly, we will teach you to plan (and YES! we'll give you a spreadsheet for it – simple and easy-to-use step-by-step guide in SPREADSHEET!) We also teach you to coach, so that you can help people when they get stuck in your plan! This might be the most important skill you can learn to improve your change skills!"
Is the Navigating Change Masterclass right for you?
Leaders & Aspiring Leaders
You are being asked to lead this change or your team will be impacted. You want people to support the change, but you are still coming to grips with how it will all work. You feel like you have more questions than answers and are often frustrated trying to keep up with information and know what it all means.
You are in charge of change within your company. You care passionately about making the change successful. You know what needs to be done, but sometimes it feels like you are the only one who see it. You sometimes feel like a scapegoat who has all of the accountability and not the right kind of leadership support.
You need to get projects completed but the amount of confusion, misinformation, rework and adjustments are making it impossible. Schedules and budgets are fixed, but the decisions are taking a while and the questions and concerns from employees are mounting.
What is change costing you?
Evidence would say "a lot"!
When change is handled poorly, your business (and its people) pay the price:
Employee retention. Your most valued team member will be the first to go and the most expensive to replace. One study from the Center for American Progress found that the higher up an employee is in the company, the more expensive he or she is to replace. For mid-level managers, the cost can be approximately 20 percent of their annual salary. But for highly experienced executives, the cost can be a whopping 213 percent of their salary.
Employee engagement. Employees often react to the uncertainty of change by disengaging. They'll call in sick more frequently or take more PTO. You may find them taking longer lunches and breaks, coming in late, or leaving early. More time is spent surfing the web or other non-work-related activities as employees become actively disengaged from their jobs. Commitment will fade, and employees will be less willing to stretch the workday to meet deadlines and aggressive schedules. This all cuts into productivity. Loss of productivity and lack of commitment to customer service affects the bottom line. Most companies don't measure the impact of disengagement, but every company I speak with has at least one story of an unplanned, unexpected impact. If companies took a proactive and intentional approach, how could they reduce the risk of these unwanted costs? Indirect costs due to missed work and associated productivity loss translates to approximately $1,685 per employee each year, according to the Society for Human Resource Management (SHRM) 2018 Employee Benefits If missed work and the associated productivity translates to $1,685 per employee and you have an organization of 200 people impacted by a change, that's a $337,000 impact!
Not my job-ism. People will start drawing a stronger box around their responsibilities and may be less willing to put in the extra effort to help another part of the organization. In the past, they would have done whatever was required to benefit the company. These employees become much more structured in their work schedule and very guarded about what they're willing to give. Critical deadlines may be missed, and projects delayed.
Customer service. The lack of engagement trickles down to customer-facing employees. Believe me, customers notice. The mood across the organization suffers as long as people are unsure about what's going to happen to their roles within the company. Their lack of engagement shows up in their voice and their commitment to customers.